New Mexico ANG F-16s at Lossiemouth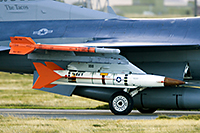 On 30th November 2005 two F-16Cs from the 188th Fighter Squadron 'The Tacos', based at Kirkland AFB, arrived at RAF Lossiemouth. The aircraft from this New Mexico Air National Guard unit, which are part of the 150th Fighter Wing, were tasked with firing AQM-37C supersonic drones to act as targets for live AMRAAM missiles. These were fired by BAE Systems Typhoon DA4 (ZH590), based at Warton, at QinetiQ's Hebrides air range off Scotland's north-west coast as part of the Guided Firing 3 (GF3) series of qualification trials.
A photo report by Sťan Wilson.