TDPU Link 16 / Fighter Meet 2005
Technology has altered the way in which war is waged. The ever changing battlefield calls for a method of keeping air assets constantly updated. One such advancement is secure tactical data links, a prime example of which is the Link 16 system. Currently in use with the US Navy, the Joint Services, several NATO countries and Japan, Link 16 is a much improved version of existing data links. It is jam-resistant and allows combat data, navigation information and digitised voice transmissions to be transferred securely. Due to the fact that Link 16 enables real-time updates to take place it provides an accurate picture of the battle space, allowing each user within the link to identify the precise location of each participant as well as the assigned targets.
Article and images by Sťan Wilson.
The Belgische Luchtmacht / Force Aťrienne Belge (Belgian Air Force) recently received its first Link 16-capable F-16s as part of the M3 software upgrade of the Mid-Life Update (MLU) programme. 350 Smaldeel invited several NATO Link 16-capable squadrons to their home base of Florennes in southern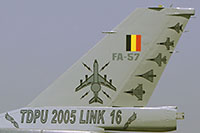 Belgium to take part in the Tactical Discussion and Procedures Update (TDPU) from 11-15th July. With armed forces from around the world working together it is essential that operational procedures are standardised if the units from individual nations are to function effectively as a whole during combat. The aim of the TDPU was to achieve this goal. At the same time 350sm also hosted a Fighter Meet to enable air-to-air combat training using the Link 16 system to take place. In addition, the Early Operational Assessment (EOA) phase of the Operational Test and Evaluation (OT&E) of the latest M4 software upgraded F-16s was carried out, prior to the actual OT&E scheduled for 2006.
During the exercise F-16BM/M4 J-210 of 323 squadron from the Koninklijke Luchtmacht (Royal Netherlands Air Force) was seen carrying a pair of dummy 1,000 pound (GBU-31) Joint Direct Attack Munitions (JDAMs). The Klu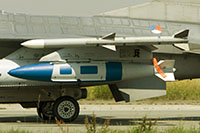 is just one of an increasing number of users of this new smart weapon technology. JDAM is a tail kit, consisting of an inertial navigational system and global positioning system (GPS) guidance control unit, that enables a free-fall dumb bomb to be converted into an accurate smart bomb. The major advantage JDAM offers over previous smart munitions, such as Laser Guided Bombs (LGBs), is adverse weather capability thanks to target acquisition by all-weather sensors such as synthetic aperture radar. Several JDAMs can be dropped simultaneously onto individual targets, each guided independently by GPS without any further pilot input. Also of note on J-210 was the Pylon Integrated Dispenser Station (PIDS), a chaff dispenser system also employed by Danish F-16s.
As well as facilitating the use of the Link 16 system and GPS-guided munitions, the M3 software upgrade also allows the use of advanced short range air-to-air missiles and the new Joint Helmet Mounted Cueing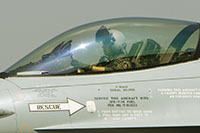 System (JHMCS). This clip-on package was initially intended for use with the high off-boresight angle capable, thrust vector controlled AIM-9X Sidewinder missile. Belgian and Norwegian pilots were seen wearing the JHMCS which enables them to cue air-to-air or air-to-ground weapons as well as radar and infrared sensors by simply looking at the target. Vital information such as targeting cues, airspeed, altitude and range-to-target are displayed directly onto the pilot's visor therefore providing them with a "first look, first shot" advantage.
These were not the only relatively new pieces of hardware on show. Norwegian F-16s were seen carrying the IRIS-T (Infra Red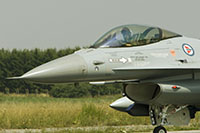 Imaging System - Tail/Thrust Vector Control) advanced short range air-to-air missile (ASRAAM) as well the Precision Attack Navigation and Targeting (PANTERA) pod. In the latter part of 2003 Norway became the first international customer of Lockheed Martin's PANTERA pod (the export version of the Sniper Extended Range (XR) targeting pod). This long-range targeting system, carried on the starboard chin (5R) station, incorporates a high-resolution forward looking infrared (FLIR) sensor, infrared pointer, dual-mode laser, laser spot tracker and day television. Belgian, Danish and Dutch F-16s use the AN/AAQ-14 Sharpshooter targeting pod (the export version of the AN/AAQ-14 LANTIRN targeting pod).