Crusading with the Tophatters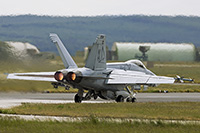 In June 2006 five F/A18-E Super Hornets from Strike Fighter Squadron 14 (VFA-14) 'Tophatters' deployed to RAF Lossiemouth. Hosted by GR.4-eqipped 14 Squadron 'Crusaders', this marked first operational deployment of the Super Hornet to the UK. During their stay the US Navy aircrews took part in the Combined Qualified Weapons Instructor (CQWI) course held at RAF Leuchars, operating in the Red Force role. In addition to this they also had the opportunity to fly missions with 41(R) Squadron Fast Jet and Weapons Operational Evaluation Unit (FJWOEU) Tornado GR.4s that were present at Lossiemouth to conduct trials with the Integrated Targeting System (ITS). ITS enables an Improved Data Modem (IDM) to be utilised, with the IDM itself providing the ability to convert digital data, such as targeting information, to a form that is able to be transmitted/received by analogue or digital radios. The Tactical Information Exchange Capability (TIEC) system, which combines an IDM and Link 16 secure tactical datalink, is due to be fitted on RAF GR.4s by 2010.
A photo report by Sťan Wilson.