Wittmund - Phantom phantastic
The history of Wittmundhafen
Wittmundhafen in northern Germany is home to Jagdgeschwader (Fighter Wing) 71, equipped with the McDonnell Douglas F-4F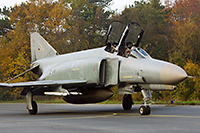 Phantom. The base began life as a Zepplin Airship port during World War I. Under the terms of the Versailles Treaty the massive hangars were dismantled. During World War II the airfield was rebuilt and served as a base of operations initially for the Heinkel He 111 medium bomber and later for the Messerschmitt Bf 110 heavy fighter and Me 163 "Komet" rocket-powered fighter. During March 1945 the base was heavily bombed, after which all flying ceased. After the war the base was again dismantled and the land handed over to local farmers. In the latter stages of the 1950s it was rebuilt for a third time.
Jagdgeschwader 71 - The "Richthofen" Squadron
JG71 was founded on 6th June 1959 at Ahlhorn. Initially equipped with the CL-13 Sabre (North American F-86 Sabres built under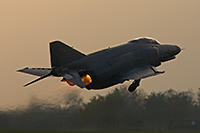 license in Canada by Canadair) it was West Germany's first jet fighter unit. The unit was named "Richthofen" after the German ace Rittmeister Manfred Albrecht Freiherr von Richthofen on 21st April 1963, the 43rd anniversary of the death of the "Red Baron", In April 1963 JG71 transferred to Wittmund. The unit's first two Lockheed F-104G Starfighters arrived in May 1963. On 7th March 1974 the first two F-4Fs arrived and on 19th September 1974 the last Starfighter flight took place. The Phantom is due to be replaced by the EF 2000 in 2013.